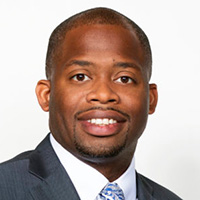 Fred Ragsdale
Senior Vice President
CBRE
Fred Ragsdale is a distinguished professional in the field of industrial commercial real estate and site selection. With an extensive background in this industry, Fred has established himself as a trusted advisor and expert in helping businesses find the perfect locations to meet their operational needs.
Fred's career in industrial commercial real estate began after he completed both a bachelor's and master's degree in accounting at Alabama State University and the University of Missouri Kansas City. After a brief stint in corporate finance and accounting with Bank of America and Neiman Marcus, and equipped with a solid foundation of business finance, he quickly dove into the intricacies of the field of industrial brokerage and developed a deep understanding of the factors that contribute to successful site selection. For almost 10 years now Fred Ragsdale has a been an integral contributor at several of the world's largest commercial real estate firms and currently resides with CBRE in Dallas, TX.
Throughout his professional journey, Fred has collaborated with a wide range of clients, including manufacturers, distributors, and logistics companies. His keen eye for detail and comprehensive market analysis skills enable him to identify optimal sites that align with his clients' specific requirements
Fred's expertise extends beyond traditional real estate transactions. He possesses an in-depth understanding of the zoning regulations, permitting processes, and infrastructure considerations that are crucial in the industrial and commercial sectors. His ability to navigate these complex aspects of site selection has consistently ensured successful outcomes for his clients.
Known for his integrity, professionalism, and dedication, Fred is highly regarded within the industry. He approaches each project with meticulous attention to detail, conducting thorough feasibility studies and financial analyses to provide clients with well-informed recommendations.
In addition to his work with clients, Fred actively engages in industry associations and professional networks like the Council of Supply Chain Management and IAMC. He regularly attends conferences and stays abreast of the latest trends and emerging technologies in industrial commercial real estate, further enhancing his ability to deliver cutting-edge solutions.
When Fred is not immersed in the world of real estate, he enjoys spending time with his wife Jessica and 6-month-old son Wilbert. With his vast knowledge, experience, and commitment to excellence, Fred Ragsdale continues to be a leading figure in industrial commercial real estate and site selection, helping businesses thrive in the most optimal locations.
---